Where Did The Mountain Bike Come From? Tom Ritchey Shares His Story
TOM RITCHEY and the Early Years of Mountain Biking
The Legendary Bikemaker Tells His Story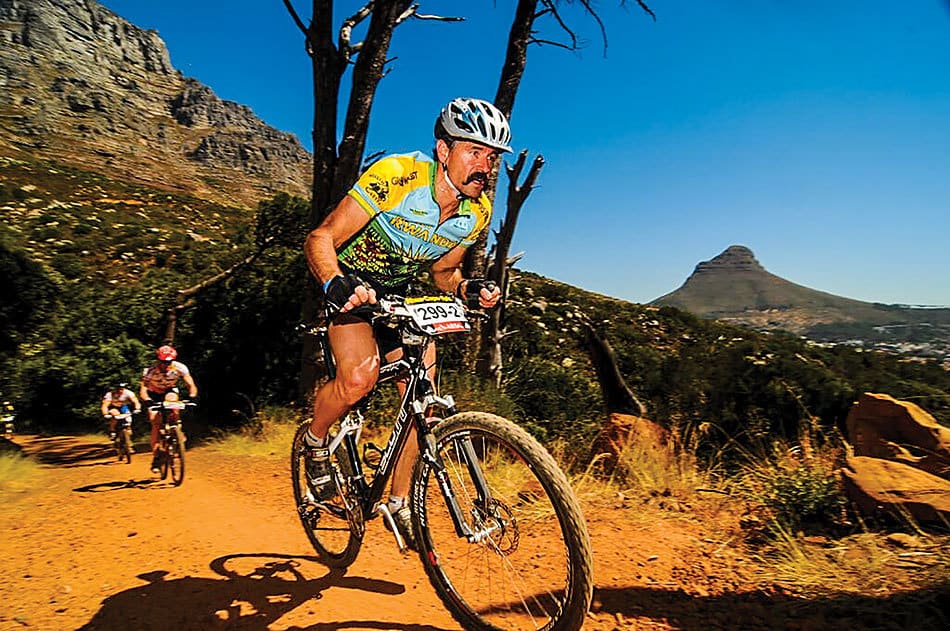 Racing background: Tom raced the Absa Cape Epic a few years ago on Team Rwanda, an outgrowth of his charitable work in battling poverty in the war-torn nation. Photo courtesy Tom Ritchey
Tom Ritchey turned 20 years old in 1976, the year that Charlie Kelly, Gary Fisher, Joe Breeze and their friends started making history with their first fat-tired bike races down the fire roads of Marin County, California. Ritchey lived about 40 miles south of them in Menlo Park, California. He was a formidable road bike racer as a junior, one of the best anyone had ever seen. At 16 he entered the prestigious Crockett-Martinez race in May of 1973 and annihilated his competition, including two riders from the 1972 Olympic team. Ritchey ended up getting disqualified for being under 18. "They called me 'The Senior Slayer,'" Ritchey recalls. "I beat most of the guys on the Olympic team."
Instead of aiming to race in the next Olympics, Tom took a different path. Ritchey's dad was a cyclist and engineer who had taught his son how to use tools and build things at an early age. At 5, Tom built a three-story tree house in the back- yard, then fell 15 feet to the ground while starting the fourth story.
In the spring of 1972 Ritchey went even further: "My dad had some tools in the shop, and I said, 'Dad, I want to build my own bike.' I not only built my first frame at 15, but at 16 I built my own stem, which was considered crazy in some people's minds. It was half the weight of a Cinelli stem. I was selfish. I was a racer at 15 years old, trying to keep up with the Olympic team, and I needed every advantage I could get."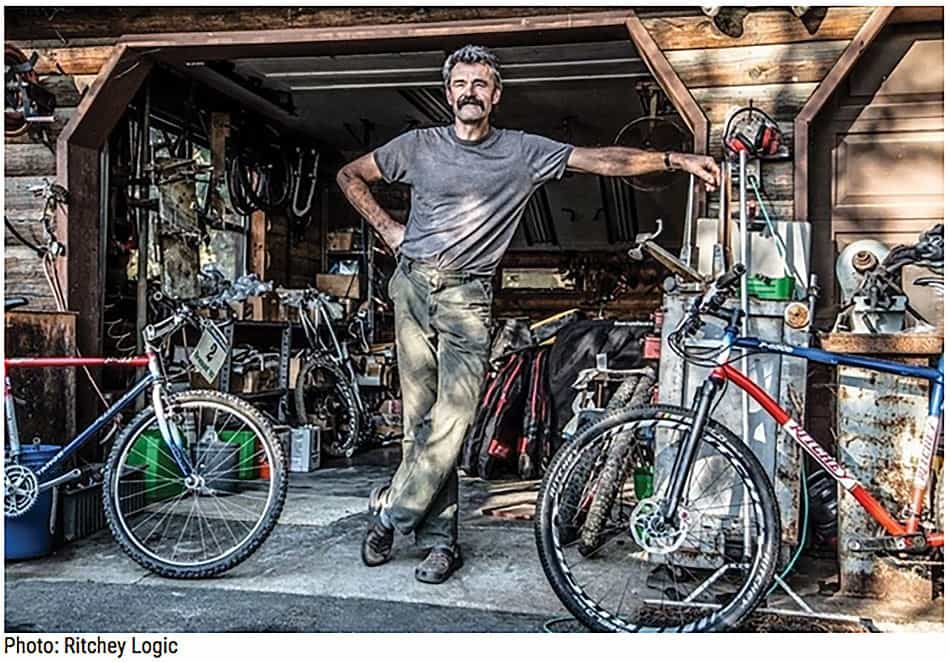 The Skyline shop: Tom built his log cabin/workshop in 1980 and still uses it today.
RITCHEY THE BUILDER
After making his first road bike frame for himself, Ritchey built another one for his friend Donny McBride, then 100 more over the next 12 months. Ritchey more than doubled his production the following year. By the time Tom finished high school, he was turning out hundreds of frames a year and would soon be considered one of the best bike builders in America. Ritchey started building bikes with oversized tubing, using fillet brazing and lugless construction to save weight and cut production time.
PUTTING IN THE MILES
Mountain bike historians usually credit Joe Breeze or Gary Fisher with the invention of the mountain bike, but Tom Ritchey deserves a great deal of the credit too. It was Ritchey's early mountain bike frames that would become a veritable blueprint for how mountain bikes would look in the future. The fact that Ritchey's frames were sold by Gary Fisher and Charlie Kelly's company, MountainBikes, would lead to a disproportionately small share of credit for Tom's huge contribution to the birth of the sport and his influence on the evolution of the modern-day mountain bike. Tom Ritchey's role in the rise of mountain biking in the late 1970s and early 1980s was enormous, with Ritchey having played a much bigger role than the mountain bike industry has previously acknowledged. In fact, one could reasonably argue that Tom Ritchey's role in the development of the mountain bike was as great or greater than that of anyone else in the sport's history.
When Ritchey was asked who he thinks deserves credit for the invention of the mountain bike, he talks about the men who influenced him, giving the most credit to his friend Jobst Brandt, but also acknowledging John Finley Scott and some of the other engineers who guided Tom in his early years.
JOBST BRANDT
Though Ritchey was a road bike racer, he and his buddies actually did much of their training on dirt fire roads and trails, usually led by Tom's dad's friend, Jobst Brandt, a Stanford-trained mechanical engineer who had helped develop the braking system on the 911 Porsche after his military service in Germany.
"People have no idea the thousands and thousands of miles I rode off-road with Jobst Brandt before the first mountain bike came into being," Ritchey told EBA. "Not just me, but many others who have no name recognition. With the long distances we were traveling on any given Sunday, 100 to 150 miles, we put more dirt miles into exploring the Santa Cruz Mountains —and also Marin/Point Reyes—than any other 'pioneer mountain biker' I've ever talked to. The story of JB's rides has never truly been told.
"We were all on tubular tires those days, and bikes were not as durable or as capable as they later became," Ritchey recalls. "The bike industry hadn't yet developed modern test standards to refine equipment, so from Jobst I learned the concept of 'personal fatigue testing.'"
"The founding four": (From left) Tom Ritchey, Joe Breeze, Charlie Kelly and Gary Fisher all played key roles in the rise of our sport in the late 1970s. Photo by Bob Huff
JOHN FINLEY SCOTT
John Finley Scott was inducted into the Mountain Bike Hall of Fame in 2008 (posthumously) for building "the world's first known mountain bike," a knobby-tired, multi-speed bike he built in 1953 that he called his "Woodsie" (or "Woodsy"), which he rode off-road in the same areas that Ritchey did. Scott was a sociology professor at nearby Univeristy of California at Davis (UC Davis) and a cantankerous character, but one who could turn on the charm if needed in his role as a leading advocate for cyclists' rights.
Ritchey recalls how Finley would yell, "I hate you, Ritchey!" every time he saw Tom. The greeting was probably in jest, since they talked frequently over the years. Ritchey says Scott kept telling him to build a 650b bike for the dirt trails they both liked to ride. After years of Scott's bad- gering, Ritchey finally built a 650b bike, completing it in 1977, the same year Joe Breeze built his famous Breezer "Number One." Whose bike was completed first? No one can say for sure, but Tom says he'd already built his first 650b bike when he saw his first Breezer.
After building mountain bikes with both 650b and 26-inch wheels, Ritchey was convinced that 650b was the better size. Unfortunately, the Marin riders demanded bikes with 26-inch wheels in those days. Ritchey made 10 more of his 650b mountain bikes in 1979, but the Marin crowd didn't want them, so he sold most of them to John Finley Scott, who purchased the Cupertino Bike Shop in January 1981.
Scott's often-abrasive manner may have cost him his life. After Scott confronted his tree trimmer for forging Scott's signature on some checks in 2006, John Finley Scott disappeared. Though Scott's body was never found, the bloody crime scene and compelling motive were enough to convict Charles Cunningham (not the one in the Mountain Bike Hall of Fame) of Scott's murder.
Ritchey's roots: Tom and his buddies were riding road bikes on dirt more than 40 years ago. Photo courtesy Tom Ritchey
TOM RITCHEY RECALLS THE EARLY YEARS OF MOUNTAIN BIKING
"I had probably built about 1000 road bikes before I built my first mountain bike," Tom recalls. "Joe [Breeze] initially came to me in '77 or '78, and he ordered a tandem for himself and Otis [Guy]. It was at that meeting that he brought his 'Number One,' the first bike that he built for himself, the purpose-built bike with the double laterals. I had very minimal awareness that there was, you know, a different kind of ballooner-kind-of-lifestyle thing going on up there in Marin.
"The next thing I knew, the next day—within a day, I remember it was that quick—I got a call from Gary [Fisher], whom I knew, and who was also a racer that I raced against. He said, 'Hey, if you build one for yourself and you want to build another, I'll buy it.' "So I said, 'Okay.'" While he was at it, Tom decided to build a third bike as well, without telling Gary.
"He didn't know anything about it," Tom recalls, "until I called him up and said, 'Your bike is ready.' And so, at that point, I told Gary that if he knew someone who wanted the third one, I'd sell him that one too. That was pretty much the long and short of the entire business conversation. There was no real input about what the bike was going be designed around or anything like that, so I basically made it the way I wanted it. Gary liked it, and as a result of showing his bike, he sold the third one.
"The next thing I did was I built 10 bikes, and I said to both Gary and, at that time, Charlie [Kelly] that they could sell them. If you read Charlie's stories, they had quickly thrown in their lot together with I think 100 bucks cash. The business plan was 'Tom's going to build some bikes, and he said we could sell them.' So, basically, I was financing them.
"I knew they didn't have money, and John Finley didn't come along until a while later [Scott later loaned Fisher $10,000 to help sustain his MountainBikes business]. So, in the very beginning, I was financing their new business. I took the initiative to build as many bikes as I wanted. And for the first year or so, in that seed-time period in the late '70s/early '80s, it was pretty much my decision whether I was going to build them, not build them, sell them, or make them available to them or somebody else.
Ritchey #1: This was Tom Ritchey's first fat-tired off-road bike. He built it in 1977, he recalls, with 650b (27.5-inch) wheels, which few other riders wanted back then.
"I didn't really know what was going to work out, but I made the bikes available to them, and they seemed to be the only ones who had customers for them. I think people found out—because I was taken seriously as a builder back then—that I was building some of these ballooner bikes, and they actually thought I was being silly with my skills.
"The cross-country riding that I was doing previous to riding the very first Repack race was significant, as significant in terms of condition and roads and trails as anything they were doing with balloon tires. We were riding every weekend on dirt—Jobst [ Brandt] since the '60s and me in the '70s—for tens of thousands of miles leading up to the first Repack race. So, as far as a purpose-built bike for off- road, it was definitely more important to me than it was to practically anybody, because that's what we rode."
EBA: What was your first Repack race like?
Tom Ritchey: From my recollection, I had already started to work on a tandem project that Joe [Breeze] and Otis [Guy] ordered, I was invited either by Joe or Gary to come up and race one of the last Repacks. I think I had also started work on my first mountain bike, clunker or ballooner—whatever it was called at that time—but I hadn't completed it, so I went up there and had kind of a quick yell-out and said, "Whose bike can I borrow?" and I ended up borrowing Wende Cragg's, which basically was just about as classic as any of the bikes that you've seen from that kind of Schwinn-heritage category. I hurled myself into the race and down the hill, and—oh, shoot, just a couple of minutes into the race the handlebars rotated." It was pretty much unrideable [laughs], and I ended up getting off, jerking on the handlebars to get them back to straight and got to the bottom. It really wasn't much of an experience, other than that it initiated my thought process that had to do with the first Bullmoose handlebar and the one- piece system that I knew was needed for a purpose-built, off-road bike. Basically, my experience wasn't a good one on Repack, and I think it was the last of the Repacks, so basically the whole thing was on its way out, and that was my takeaway—the bikes can go downhill because they weigh 50 pounds, and the bars couldn't take a bump, so it was pretty much a learning experience for me.
EBA: How did you come to start building the early MountainBikes for Gary Fisher and Charlie Kelly?
TR: They didn't know much about my capabilities or capacities. Basically, I made the bike for myself and then announced to Gary when his bike was ready that there was another bike that I had made. I made three, because it just made sense to me.
If I was going to build one, two or three, it didn't really make a lot of sense for me to not build three at that time. I was a production-minded guy. The main thing was that the original bikes that they had, even Joe's first bike, were so heavy that I really didn't look at it as a bike that I wanted to copy or ride. Matter of fact, at the original Repack races, if you know the history and you see the images and all, they didn't ride them as cross-country bikes. They used pickup trucks—Fred Wolf's pickup truck and others—to drive them up the hill and then, you know, hurl them down the hill. The whole concept that they were working from was not interesting to me. I was much more interested in developing a lightweight cross-country bike, and I had the capability of fabricating all kinds of things that had to do with the specialty of making it that way. I think my first bike, even with the super- heavy wheels that were being used, was about 10 pounds lighter than Joe's bike and about 20 pounds lighter than Gary's bike. And so, really, the Repack experience taught me that the handlebars were terrible. The weight of the bikes was terrible. The pickup-truck idea of riding wasn't who I was. In order for me to do the right thing, I needed to figure out a way to make these truly cross-country bikes. That's what I did. And so that's what launched things in what was somewhat of a spectacular way. They saw quickly what my interests and ideas and capabilities were. They didn't really have the ability to do much in their business, because they didn't have any money, but they seemed to have a relationship with a lot of local people who wanted what I had to offer, and so I looked at them as a great sales and marketing conduit. I ended up creating the concept technology around the lightweight cross-country bike that soon became associated with the brand and sport.
EBA: Did you ever dream that it would catch on the way it did?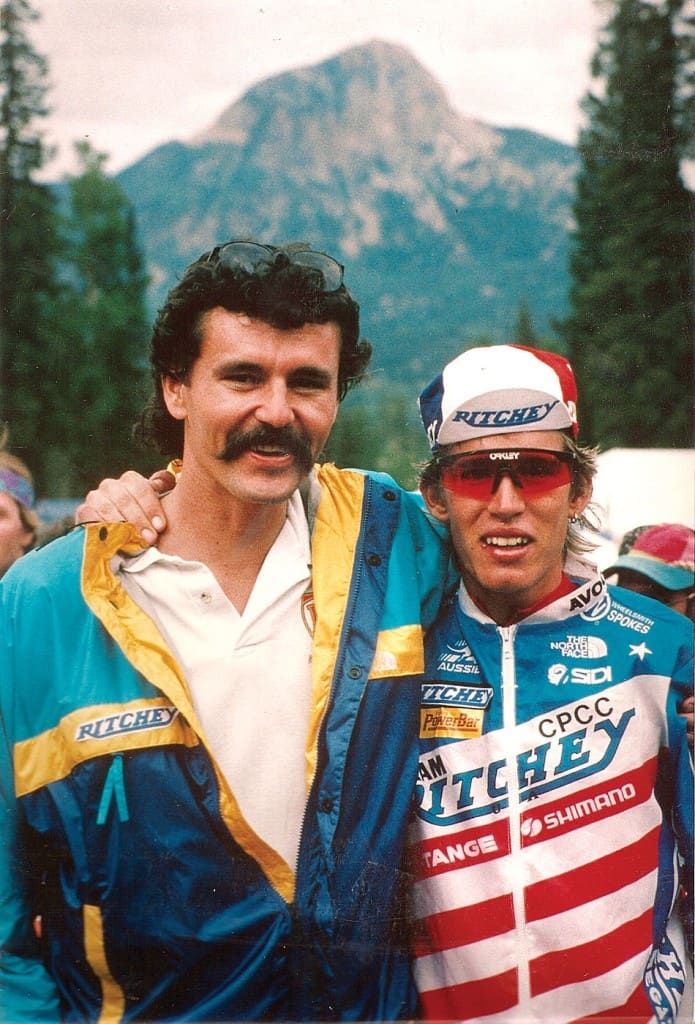 TR: Not really. I don't think any of us thought much outside of our local playground area [laughs]. I think the way cycling was perceived globally was very Eurocentric, and there was really very little of value that was coming from the U.S. from any U.S. companies, whether it be Ritchey, Specialized, Avocet or any of these companies.
I give Greg LeMond [American Tour de France champion] a lot of credit for fanning the flame of international interest towards the United States, which at the same time was spawning this new type of bike. Even people like [Andy] Hampsten and [Eric] Heiden, and the people that raced for me who were on the 7-Eleven team, jumped on the sport with me and Mike Neel, who worked for me. It became a very accept- able thing in a very short amount of time for a lot of reasons—not just the people in the ripple, the pond of Northern California, quickly spreading it, but it became much more spreadable with the influence of 7-Eleven and Greg and the new kind of awareness in the world that there were things happening in the United States that were worth paying attention to.
---
THERE ARE SO MANY WAYS TO GET ELECTRIC BIKE ACTION