The E-Bike World Tour Is Just Around The Corner
E-Bike World Tour 2021
This summer, Tignes-Val d'Isère (France), Verbier (Switzerland) and Flachau (Austria) will host the three E-Bike World Tour 2021 events.
Entries for Tignes-Val d'Isère and Verbier are open now.
By EBike World Tour
Enjoyed by amateurs and professionals alike, the first two editions of the Verbier E-Bike Festival were a huge success. Positive feedback encouraged the organizers, who also run the Freeride World Tour, to line up further dates across Europe.
Between escaping into the mountains, spending time with friends and family, and achieving competitive goals, everyone enjoyed themselves on the first two Verbier E-Bike Festivals' diverse itineraries. The response from riders and media was so overwhelmingly positive that the organizers decided to take the festival further afield.
Understanding the value of e-biking as a way of discovering their areas, joining the movement was an easy decision for the renowned sports destinations of Tignes-Val d'Isère (France) and Flachau (Austria) – two-wheeled bliss has no borders.
The E-Bike World Tour 2021 offers:
Packages and activities for all levels
Three destinations in 2021, provisionally five for 2022
On-site e-bike tests with the newest e-bikes available from over 30 brands
A Gourmet Tour at every event so you can flex your legs and taste buds too
A series of E-MTB Discovery Tours and also E-Road and E-Gravel to allow everyone to (re)discover these charming and authentic areas
Events that promote sustainable transport and to create a lasting heritage in the host resorts
Elite races at each of the three stops, including the legendary E-Tour du Mont-Blanc (E-TMB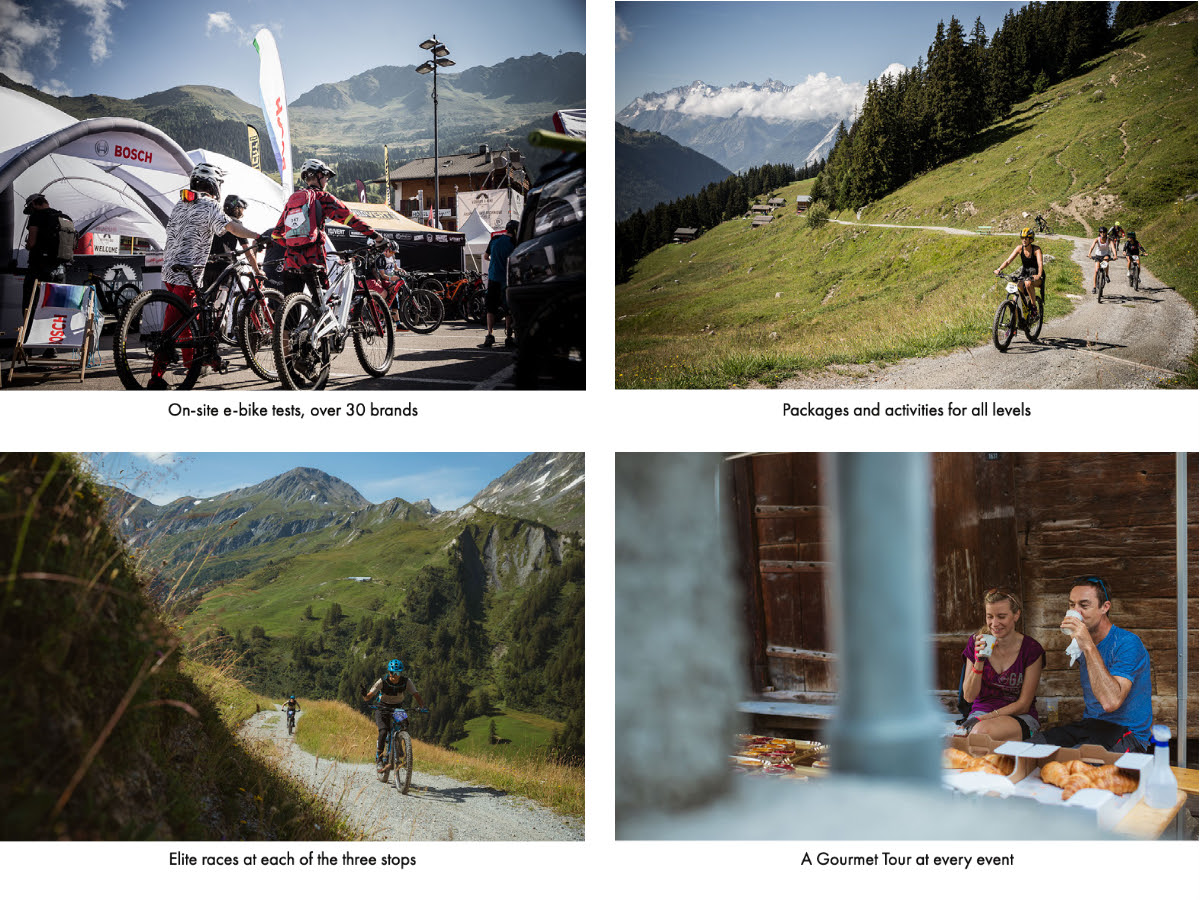 Top professionals such as Marco-Aurelio Fontana (ITA) and Nathalie Schneitter (SUI) have already confirmed their presence:
"The cycling community is enormous but often focused on classic cycling events. I believe this is the way to show the world what we can do on e-bikes. I am thrilled to see the way things are evolving."
– Marco-Aurelio Fontana (ITA) Olympic medallist, London 2012
"It's awesome, I love adventure, long days in the saddle and riding technical terrain. The E-Tour du Mont-Blanc 2019 was one of the highlights of my career, and to think there will be a series of similar events is just fantastic. I am already excited to take part and make history."
– Nathalie Schneitter (SUI) UCI E-MTB World Champion and winner of the E-TMB 2019
SAVE THE DATES…
30 July-1 August: among the peaks of Tignes-Val d'Isère (France)
12-15 August: the legendary event in Verbier (Switzerland)
Dates to be confirmed: Flachau: Dates for the event in Flachau cannot currently be released due to the health restrictions in Austria; they will be confirmed soon.
The E-Bike World Tour aims to become the must-ride event of the e-bike movement, made for and open to all. With its various activities and races, the EBWT has inclusivity at its core.
"To launch the E-Bike World Tour with the premium destinations of Tignes-Val d'Isère, Verbier and Flachau is a dream come true. Together, we will deliver a superb experience for participants and a major platform for the cycling industry. The revolution has started!"
Visit the websites of the three venues of the Tour: Tignes-Val d'Isère, Verbier and Flachau – more information available on www.ebikeworldtour.com
---
ELECTRIC

 BIKE ACTION MAGAZINE
For more subscription information contact (800) 767-0345